Tips and tricks on how to help a newborn to sleep better
From an experienced mama who tried everything – How to help a newborn to sleep better.
This post contains affiliate links for your convenience. This means that if you purchase through the links provided in this article, I may receive a small commission at no extra cost to you. See my full disclaimer for more details. Thank you for your support!
You have everything you need for your baby, and now the question that every new mother wants an answer to. How to help a newborn to sleep better. There are some tips and tricks to help, but each baby is different.
I am not a doctor and not a professional. Just a mom with two babies that went through phases of sleeping great, and phases of not sleeping so great. There are some tips and tricks on how to get your baby to sleep a little better. I'm going to share these tips with you. All based on experience.
There are some items you need like a good monitor, a good swaddle and some natural gas remedies to help babe sleep. Let me share some of the favorites that worked for us. This after several days, weeks, and even months of trial and error and after trying over a dozen different products.
Have a good quality baby monitor
Get yourself a good quality monitor. It seems pretty….. straight forward. Right? Well not really. There are so many aspects to baby monitors. Seems silly and you're probably thinking, will a monitor really solve my "How to help a newborn to sleep better" issue?
Well, maybe not the baby. But at least you can SEE what they are up to and why they might be uncomfortable. For one, both of our boys always were getting their limbs stuck in the crib. That oughtta wake a baby up, fast!
Let me make it easy for you. there are two summer infant monitors that we have used and are in love with both of them! (we just enjoy getting upgrades).
5″ Baby Pixel Monitor – HD, zoom, 5″ Screen display.
Baby Pixel Touchscreen – HD, touch screen, and more!
Nowadays… you can talk to babe from your end! This is an amazing feature to be able to talk, sing, or "hush" your baby without being in the room.
Play music! Yes, monitors can do that now. Crazy right. You can play lullabies through the camera end of the monitor. Or just plain white noise.
You also should have one that displays the temp, a baby that is too hot or too cold won't sleep well. A baby should have one more layer than you to be comfortable temperature-wise! Which brings me to my next point. Swaddle
Every single one of the points mentioned above is on the following two baby monitors, as a part of the summer infant brand.
Swaddle
We lucked out with our first baby. He had a halo sack and it worked wonders up to the age of 18 months! This is a huge key in how to help a newborn to sleep better.
The infant style is velcro, easy to use and they make it in a fleece material for winter, cotton for summer. He slept … well … like a baby! After getting his arms free and getting used to that, we upgraded to a halo sack that was just a big wearable blanket. He grew out of that and after 18 months, we were able to use just a regular blanket.
We were not so lucky with our 2nd. We tried a dozen different swaddles. Seriously. It was so frustrating. Then I broke down and got a Nested Bean that was slightly weighted on the front. No exaggeration, he slept longer the first night wearing it.
There are the zen swaddle and the zen sack. You can get so many different adorable designs. We used both the swaddle and sack. The weight on the front makes it feel like babe is being touched ever so slightly. This must have been the magic trick because he slept like a baby. Pun intended.

Granted it was only an hour, at first but that one hour for an overly exhausted mama is exactly what I needed! No lie, within two nights he was sleeping OVER 5 hours at 3 months old. This was one happy mama. Until gas pains hit.
If all else fails, sleep with them
This is one that is controversial. However with a newborn, some times it is the only way for mom to get sleep too.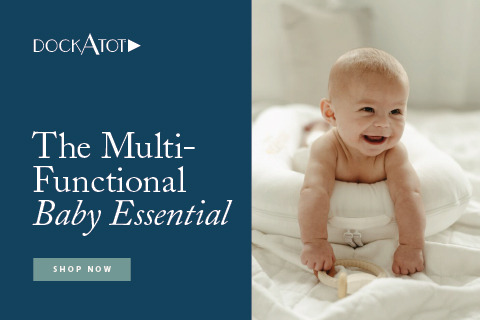 Dockatot. Heard of it? If not, check it out and get it. It's easy to travel with and you can use it at home. We can't speak highly enough of this thing. It's the ONLY way I could get sleep with a newborn. Thank goodness we only needed it with the 2nd one.
The Dockatot nests right next to you, on your bed. It's a much safer way to co-sleep. Or you can lay it on the floor so babe has a safe space to nap in (as long as dogs/other siblings aren't around). It's washable, you can EASILY travel with it (this is a huge deal for our family)
Always make sure you understand and read safety guidelines with such products before using them!
Gassy Babies
Have you thought about this one? Gassy babies are babies that do not want to sleep! Get yourself some magic "medicine" for babe. Gas drops, colic drops, and gripe water are three things that we used interchangeably to let babe get some rest, and ourselves.
Typically use one or the other. Both might work fine (given at different times) or one might work better than the other. Many mamas swear by gripe water. Our personal experience was better with gas drops. We tried several different brands.
One dose of gas drops after dinner, then if they are still uncomfortable after they have been put down for the night, we would give another dose.
These stages don't last forever, mama. You will get through it. You are doing a great job. Babe is new to the world, and they want to see and experience the things around them.
You'll get more sleep soon enough. If these tricks don't help, find someone else to sit up with the baby at night so you can get rest. Rest is important mama.
Cheers to you, and your new little one!